MOTHER LODE THEATRE COVID MESSAGE
To our Mother Lode Theatre Community:
As you are aware COVID-19 has caused us to cancel live performances at the Mother Lode until sometime in 2021, but we are preparing for a live 2021/2022 season. In the meantime, we are featuring several VIRTUAL STREAMING opportunities (scroll down to see events) to entertain the community. A portion of all virtual tickets will come back to the Mother Lode to use for future programming. Please consider donating to the Mother Lode to continue first class programming and improvements for the future. Visit SUPPORT US for information on how you can be a part of the Mother Lode Theatre's future.
Thank you and we look forward to entertaining you soon!
Mother Lode Theatre Staff and Board
Interested in the future and betterment of the Motherlode Theatre? Consider joining the Butte Center for Performing Arts Board of Directors!
– Virtual Streaming Event –
Eleanor's Very Merry Christmas Wish – The Musical
Ticket Package Pricing: $20 – $80
Virtual stream is available for viewing from November 27th through December 27th.
Theatres may be dark this year, but Christmas can still shine brightly for kids and their families. We are pleased to announce that the streaming video of the 2019 World Premiere, critically acclaimed performance of Eleanor's Very Merry Christmas Wish – The Musical, is coming to your home for Holiday 2020.
— Virtual Streaming Event —
Darlene Love
Love for the Holidays
Saturday, December 5, 2020 | 6:00 p.m. MST
Type: Virtual Stream | Duration: 60 Minutes
Ticket Price: $35 | Online Sales Only – No Box Office
Tickets may be purchased in advance of show | Tickets On Sale Now
Grammy Award Winner and Rock & Roll Hall of Famer, Darlene Love, has long been recognized as "one of the greatest singers of all-time" by Rolling Stone Magazine. It's no wonder The New York Times raves: "Darlene Love's thunderbolt voice is as embedded in the history of rock and roll as Eric Clapton's guitar or Bob Dylan's lyrics." Through the years, Darlene has continued to captivate audiences worldwide with her warm, gracious stage presence and sensational performances. Her voice launched dozens of hits including "He's a Rebel," "(Today I Met) The Boy I'm Gonna Marry," "Marshmallow World" and her signature song, "Christmas (Baby Please Come Home)." This holiday season, the music icon will bring these classics and more for a one-night-only holiday performance. It's a rockin' Christmas celebration you won't want to miss!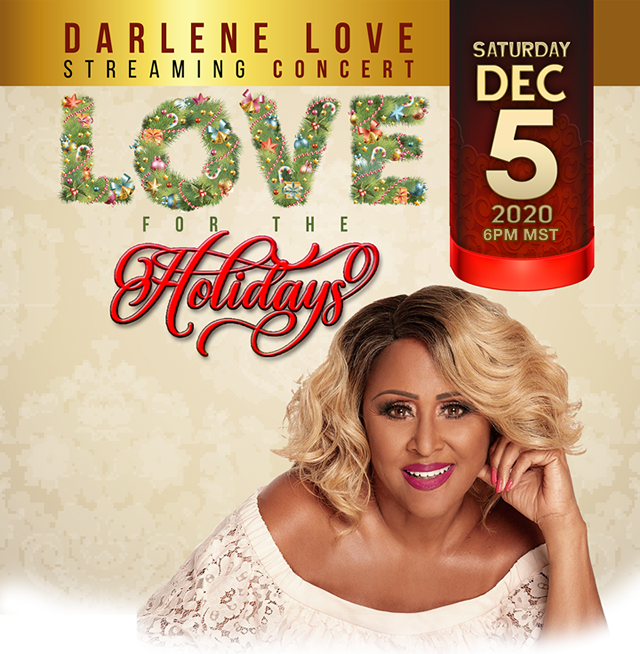 Butte Symphony
To our Butte Symphony Community:
This is an unprecedented time in our Butte/Silver Bow community. COVID-19 has taken a huge toll and caused the temporary cessation of live performances. We are all facing a tremendous amount of uncertainty as we await an effective vaccine to help our area return to normal. Our top priority is the health and safety of our musicians and audience, and to also be a leader in our community by reacting in the most sensible way possible.
Currently, all live performances are on hold until a vaccine is made available to the public at large. The best guess for a reasonable timetable would be early summer of 2021. We are encouraged by this and are planning a full season for 2021/2022 … our 72nd year! Our musicians are ready and wanting to bring great music to our public. We will keep you posted as things progress and will announce any developments as they happen.
Please consider helping us "bridge the gap" by donating to the Butte Symphony so we can hit the ground running and return to our performances at the Mother Lode Theater. Just go to the "donate" tab on this website. Many thanks for all of the support we have and will receive. Together, we will survive this crisis and come back stronger than ever!
Lowell Stuck, Executive Director
Butte Symphony Association
P.O. Box 725 • Butte, MT 59703
Butte Community Concert Series Events
Butte Community Concert Association is planning for when it is safe for the performers and local community audiences. Please check our Facebook page as well for status updates on the upcoming season and reschedule of events.
Contact Us to Purchase Community Concert Series Tickets
Mother Lode Theatre Calendar
We hope to reschedule many of the planned events when restrictions are lifted and the public can safely attend events at the Mother Lode Theatre.
For information and tickets please call the Mother Lode Theatre box office at 723-3602 Monday-Friday between 10:00 a.m. and 4:00 p.m.
Enjoy Live Theatre This Season By Streaming!